Ungdoms-SM i rugby 2021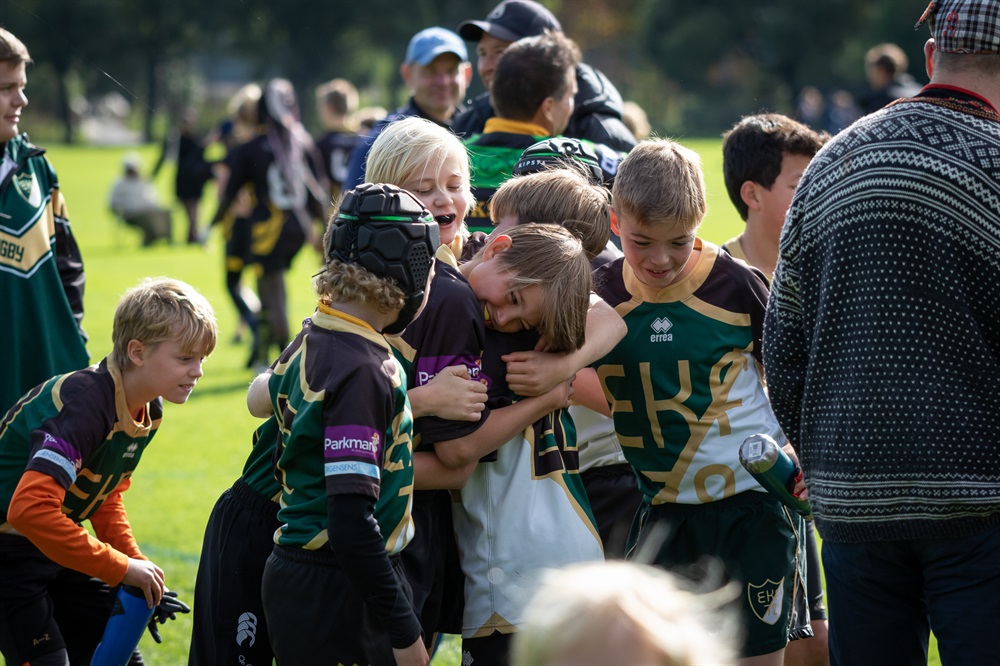 Årets USM i rugby är till ända och några dagar har passerat. För att påminna oss om allt det roliga under helgen som gick och för att summera det hela nu när vi fått lite perspektiv, så har vi bett våra coacher skriva några rader om våra lag.
Då vi har många spelare och föräldrar med olika språkliga bakgrunder har coacherna skrivit det hela på engelska.
Håll till godo!
U8
"USM 2021 was a celebration of the rugby values from our under 8's. Over two days they strengthened their bond to form a real team that played with intensity, fairness, passion and above all, fun in the spirit of rugby. The atmosphere of several hundred rugby friends brought out the best in them, as they menaced their way to victory after victory. The joy and pride in their faces when they realised that they had won every game, the only team to do so, was priceless. The future of Erikslund rugby is bright."
U10
"The U10s fielded 11 players for USM who were eager to play some new clubs and continue a run of fantastic development throughout the season. There was pure enjoyment from the very beginning as they notched up the victories against some great opposition. Across the weekend they won 6 out of 6 matches, built some amazing memories and with smiles all the way. Their teamwork made us proud, friendships were made and confidence was built. It was a pleasure to watch."
U12
"EKF U12s is a team of around 20 kids, some beginners and some having played rugby for several years. The team has had a truly remarkable development during the past year – developing individual skills and above all an incredible team spirit. The year culminated in six out of six wins during USM, playing the major clubs in Sweden."
U14
"Erikslund Rugby U14 had a fantastic weekend at the USM, with 23 players featuring in total during the tournament. We had a slow start on Saturday, but got going on Sunday to come in 3rd place and receive the Fair Play award! Very happy!!! Roll on USM 2022!"

F18
"It's been a weird, but fun year! We're happy we were able to keep up training and even get some new players to join. We almost reached the target of fielding our own F18 team at USM. The individual player growth has been our teams biggest success and it's impressive to see the confidence building up in the girls. Looking forward, we hope to see Erikslund enter the ladies 7's arena in a near future."
P16
"It was a USM weekend of two halves. Saturday proved to be harder than expected, but ended up being the building block and wake call for day two. Sunday become a completely different ball-game. It was a different team, with a new focus and enthusiasm. Every single person stepped up and contributed in every way. Winning both starting games meant we qualified for the 3rd - 4th place playoff. Unfortunately after some of the best rugby we have seen the boys play all year, we lost by one try.
To the coaches, this was a win. ....And one thing is for sure, we came away from the tournament with a new belief.
Well done to all the players, coaches, Parents and organisers. I think I say it for everyone involved in the P16's it was a great weekend of Rugby and great fun after the last 18 months of uncertainty."
P18
"The P18s participated in the youth championship with a lot of enthusiasm. As always with the -03:s and 04:s, they needed the first half of every match to get their gameplay going. Come second half and they got their act together and played the game they wanted to play, a fast game with offensive kicking and coordinated attacks from set pieces and break downs.
Their greatest strength this USM was that they kept their wits throughout and didn´t lose their cool despite early handling errors. They quickly adapted to their opponents playing style and adjusted accordingly. Their performance this weekend was truly stunning."
Dessa framgångar är ingen slump. Det är hårt arbete och mycket glädje från alla inblandade som ligger bakom det här!
Ett stort grattis till alla spelare, ledare och alla de andra som på olika sätt deltagit.
Ett extra grattis till våra USM medaljörer - P18 som tog guld och F18 som tog silver!
Nu bygger vi vidare för framtiden!
---